Criminal justice system

Where are Probation?
Forensics shadow looms
The courses don't work!
Britain's Criminal justice system doesn't know what to do about Autism.
Prison is not an easy ride-not least for those with Autism, additionally I would add Asperger's Dyspraxia or other….
Prison is not an easy ride – not least for those with autism spectrum disorder (ASD).
We know from experience that some prisoners are more vulnerable to bullying and victimisation, more likely to be easily led and manipulated, and more vulnerable to sexual and physical abuse. They will likely have difficulty understanding and responding to other inmates' facial expressions and body language – causing numerous problems such as understanding their place within the prisoner hierarchy.
But it is more than the immediate danger that is an issue. Prisons are noisy environments with banging doors, and other inmates talking and shouting. The enclosed nature and prisons' structural design means these sounds reverberate and are amplified. Many with autism experience sensory hypersensitivity: rain on the window may sound like gun fire, and fingers on the scalp when washing hair may feel like razor blades. For them, the every day noise of a prison can be deafening.
Social communication difficulties can also be an issue, such as understanding the non-literal language of other inmates. For instance, an inmate saying to another that he was "going to rip his head off!" would cause an individual with autism to be surprised that this action had not actually been carried out.
Those with autism can also exhibit a rather rigid adherence to certain prison regimes. Some are obsessive about the cleaning and organising routines they follow in their cell. If a guard were to conduct an unannounced room search, for example, and move everything around, it could cause a lot of distress.
A significant percentage
As of December 2016, the UK prison population stood at 84,069. Let's say that 1 per cent of prisoners have ASDs – the same prevalence as in the general population – then there are at least 840 prisoners who are on the spectrum.
However, there are a number of studies which suggest that the prevalence of ASD is actually higher in the prison population than the general population, and that it is actually under-diagnosed in prisoners. Yet there is just one institution in the UK – Feltham, for young offenders – which has been awarded Autism accreditation and is therefore deemed to be "autism friendly".
The aim of accreditation is to improve autism practice across all areas of prison life, with the long-term aim of tackling issues frequently experienced by prisoners with ASD, and ultimately reducing the risk of reoffending in this subgroup.
For more than two years, Feltham has worked with the National Autistic Society to improve the way offenders with ASD are supported across all of these areas. The prison has been praised for its efforts: in 2015, Prisons Minister Andrew Selous said that he was keen to promote the accreditation system across the prison estate following Feltham's success. But still not all have achieved it.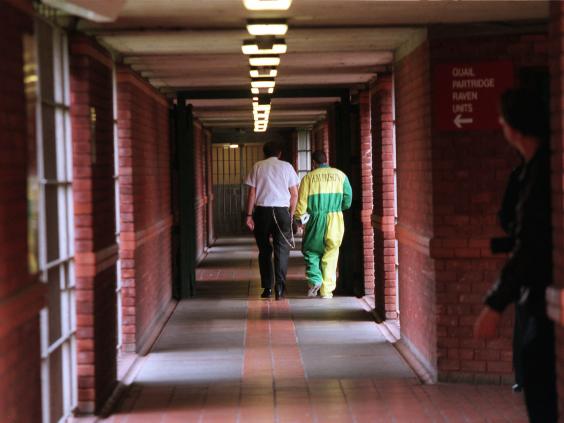 Clearly, prisoners with autism are not receiving the support they need, nor is the research being done to help them. Only one paper has explored knowledge and understanding of ASD by prison staff with all participants agreeing that many prisoners with ASD do not receive the care they require.
Autism justice
However, it's not just prisons that are struggling with ASDs – the whole criminal justice process is.
The lack of awareness and recognition of autism can occur as early as police interviews and in court proceedings. ASDs including Asperger's have been used to push for leniency in sentencing – to varying degrees of success – but even before that, during trial, the behaviour of a defendant with ASD can negatively affect judges and jurors' perceptions.
Alex Evans National Autistic Society Criminal Justice Conference .Alex has Aspergers Syndrome and this video extract is from his presentation at Northumbria University at the NAS International conference. Alex describes his experiences in the criminal justice system. His life experiences make him well placed to provide inspiring presentations and training to both professionals and parents/carers. Alex delivers with passion, enthusiasm and humour. He intersperses his training with lyrics he has written during the different and difficult stages of his life.
His absolute passion is to assist professionals in how best to support those with autism, the goal is to make working with people with Autism more positive. He whole heartily believes with the correct support measures in place, a greater awareness and understanding of autism that together we can ALL make the difference which can be instrumental in changing people's lives for the better.
The modest amount of research on judicial perceptions or decision making regarding defendants with ASD suggests that judges have limited understanding and familiarity with the disorder. Quite often they need expert advice from mental health professionals such as clinical psychologists, "not just to disabuse them of the potential for drawing wrong inferences, but to enable them to factor the symptoms of Asperger's informedly into their instructions to juries and into their own decision-making".
There has been some indication that jurors too may hold misconceptions and stigmatising beliefs about ASD, which can negatively impact their decision regarding a defendant with autism.
This area desperately needs to be researched, so that any person with an ASD, whether rightly or wrongly accused, is treated fairly, and helped to cope with the situation ahead of them. We are now working with both prison staff and inmates to increase our understanding and boost the research in this area. Crucially, we want to help develop a toolkit for prison staff, aiming to increase the identification, recognition and understanding of ASD within the prison environment.
Every person on this planet should be entitled to fair and unbiased analysis within the criminal justice system, but those with autism need more help to ensure this actually happens.
Clare Allely, lecturer in psychology and Antonia Wood, both from University of Salford. This article first appeared on The Conversation (theconversation.com)
Where are Probation?
I am writing in response to the submission below:
Searching in the dark – HMP/YOI Parc
"I have been in custody for 10 months and in that time, I have had NO contact from my Probation Officer. My Offender Supervisor has been brilliant, but there are things only my PO can help with. My release is in four months and I need to see Probation. Since Probation got privatised they seem to have disappeared. Can anyone tell me what Probation are supposed to be doing for me before my release?"
As a result of the restructuring of probation services in England and Wales under the Transforming Rehabilitation reform as of 1 June 2014, probation services have been delivered by two separate organisations. The National Probation Service (NPS) is a public sector organisation covering the whole of England and Wales, and by 22 Community Rehabilitation Companies (CRC), each CRC covers a specific geographic area within England and Wales, with the ownership of each through private and third sector organisations.
At the point a person is sentenced to a term of imprisonment he or she will be assigned either a Probation Officer or Probation Service Officer.
The probation officer, whilst the convicted person is in custody, will liaise with Offender Supervisors and Resettlement staff
in prison and plan for the terms and conditions of release on licence, and also what resettlement issues will need to be addressed.
The Probation staff
would have contact with the person whilst they are in custody and would hope to engage them in the process of sentence planning both whilst in custody and upon release. For instance they would discuss what activities and courses need to be completed in prison, and what issues on release need to be addressed. This is mainly achieved through directly visiting that person, or through video or telephone conferencing. If the convicted person needs to contact the community Probation Officer or Probation Service Officer this can often be arranged through the prison Offender Supervisor, the CRC Resettlement Officer, or contact made by letter or telephone.
I have read the much-criticised White Paper that is Liz Truss's
plan for reform and rehabilitation, and most of it seems to be about the recruitment of new prison officers. There is a considerable amount of cash being used as an incentive to become a prison officer. It seems that the POA have got their own way yet again, with a planned 3-5 thousand pound pay rise and approximately £30,000 for new starters and a prison officer apprenticeship scheme. This is for people who need no recognised qualifications to do the job.
But prisoners are, as we all know (the suicides and self-harming
is not being done by prison staff), going through far worse than what prison officers are going through (at least they go home to their families at night), so where is our pay rise?
Prisoners are not appreciated or rewarded for the work we are forced to do for private companies in prison workshops all over the country. Our minimum pay is around £4, but most of us are earning £8 to £10 per week, with a deduction of £1 for TV rental.
"Where are our incentives and production bonuses when the prison service is earning a profit due to the hard work that prisoners are forced to do?"
It is time that real investments were made in prisons, across all departments. Only then can reformation in rehabilitation actually take place. How does throwing money at prison staff help prisoners?
Leanne
Your statement is true, but having spent too much time in prison I agree with Jason that prisoners are not paid enough. If they were paid a real wage for their hard work then they could pay board and food and still have a load of money left which could allow prisoners to purchase more food items, clothes and toiletries which would save the prison money. Prisoners could also then save a lot of money for release so their not kicked out, penniless and no homes. There's a lot of people in jail for petty stuff who dont deserve to be slaves.INSIDE TIMES.
Forensics shadow looms
Thousands of convictions may be in doubt due to "potential criminal acts" by lab workers
Police say they fear that scores of convictions may be challenged because of suspected manipulation of forensic test results at a private laboratory in Manchester. The national police lead for forensic outsourcing, James Vaughan, said that two employees of the testing services company Randox were under criminal investigation for allegedly perverting the course of justice after issues with test results emerged in January. "We believe there are potential criminal acts that took place," said Vaughan.
Vaughan said the investigation
had grown, with the results of 6,000 samples under question. Scores of cases could be
referred to the Court of Appeal,
including rape and murder cases as well as more minor cases such as drug-driving, he added. Some results of tests relating to levels of drugs in blood could be wrong. Police and prosecutors do not know which can be relied on and are trying to establish which results have been compromised. Investigators are looking into alleged manipulation of data from toxicology testing carried out by Randox as far back as 2014. At first it was thought fewer than 500 samples were in question.
Initial retesting of samples still held has shown broadly the same results as was presented in court cases. However, 10% of samples are no longer held, cannot be retested and thus can no longer be relied on. Much could depend on how crucial the toxicology test results were in the prosecution's case.
It is believed that a small number of serious cases may end up being referred to the Court of Appeal because of concerns about the safety of convictions where the testing done by Randox was a part of the prosecution case. These would be cases where the original samples tests cannot be found and thus cannot be retested.
Appeal court judges would then have to decide whether the results of the forensic tests could have affected the guilty verdict reached by a jury. Vaughan said: "This is a serious breach of the very rigorous professional standards set by the forensic science regulator for staff and organisations working in this critical field. We now have a clearer
picture of the scale of this data manipulation."
The alleged manipulation relates to data describing the findings of the tests of samples submitted by police forces to the lab. The samples themselves were not interfered with, police said. Some cases have been adjourned while samples are re-examined, and priority is being given to cases that are about to come to court. "We are prioritising the most serious and pressing cases," said Vaughan, "but all cases where there could have been an impact on prosecution will be assessed, retested and appropriate action taken.
"While there has been limited retesting to date, the evidence has shown that in the vast majority of cases, the original reporting was accurate"
A spokesperson for the CPS said: "We continue
to work with the Home Office, police and the office of the forensic science regulator to assess the impact of issues relating to Randox Testing Services. Our priority is to establish the impact of these issues on both completed and ongoing cases, in order to ensure that appropriate action is taken."
A Home Office spokesperson said: "This
matter is currently being urgently investigated
by the forensic science regulator and the UK Accreditation Service (Ukas) and a criminal inquiry has been launched by Greater
Manchester police. The Home Office is working
closely with the NPCC, forensic services regulator and Crown Prosecution Service (CPS) to prioritise samples for retesting."
How many times? The courses don't work!
On 19th of July 2012 it was widely reported by the media, BBC included, that 'one third of offenders are being released without having completed any offender behaviour treatment programmes. There is some conjecture as to the efficacy of these programmes (costing the taxpayer hundreds of millions of pounds) within prisons which the government will maintain are necessary and cost-effective, reducing reoffending, even though it has long been thought by the majority of European countries that the SOTP and other courses do not work and have since stopped using them. The UK is the sole European nation continuing to prosecute their use. With such a large proportion of offenders being released without treatment there is now, surely, a wonderful opportunity to put the efficacy of the programmes to the test. Using the Freedom Of Information Act it would only require the question 'What are the relevant rates of reoffending of prisoners released without treatment in comparison to those released after having had treatment?' Any resulting figures that do not display a significant marked reduction in reoffending within the 'released and treated' group can only point to what the rest of Europe (and almost every other developed country worldwide) has long known to be the case; that SOTP and other courses are a waste of time, energy and money – and they only remain in place in the UK purely to sate the demands of a right-wing press by successive weak and frightened governments.
Comment
Zing
(bad diet and vaccines cause autism yale study shows that, everyone says it, they want to keep course, make diet worse, austerity! but it cost more! and then they pretend they don't know what to do, for a start if a prisoner has had a heb b vaccine don't give it to him again, i had 3 they said booster, when there is no such thing as a booster, i did 7 years, i should have had it once)
they gave me solitary confinement on drug free wing in hmp gartree (a5826aj) tarndeep singh saying i had bird flu, then tried giving me a vaccine after that that doesn't even make sense, if i have it my immune system is already inflamed why inflame it more???2008? 2009?
magnesium, zinc, calcium, no sugar, more fresh food, no processed food .The courses don't work! Things that work is tougher regulation on food, more attention to diet and nutrition and reducing magnesium, zinc, calcium, no sugar, more fresh food, no processed food . The courses don't work